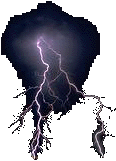 I am a local magician who has performed for large and small groups of all ages for the past 40 years. My greatest interest is performing close-up magic and sleight-of-hand.
My magical career began at the age of 11 when a relative vanished a cigarette in my T-shirt. I learned that trick and went on to learn many more... performing at small birthday parties just a year later.

Since then, I have performed for shopping malls, large company picnics, banquets, churches, hospitals (usually at no cost), and many small regional festivals. For the festival events I become a "street performer" performing sleight-of-hand for anyone passing by my spot and... all too often, the crowd around me grows quite large.

Currently I perform for companies and private parties upon request. I specialize in card and coin close-up magic with always an emphasis on humor. My magic is a way of entertaining the spectators in my audience... always making them a part of the show.

If I were to summarize my performance, it would be to evoke strong emotional responses from my audiences... in hope that it will be laughter... with a little shock, awe and intrigue thrown in for good measure... no matter the size, or the age of the group and, at the same time, demonstrate what so few do in this area... the performance of sleight-of-hand.

---

---
Not your typical Magician...
Marty is "Outrageous" he's "Wild" he's "Hilarious"
and sometimes... he's just "Out of Control"
Phone 864 275-4175