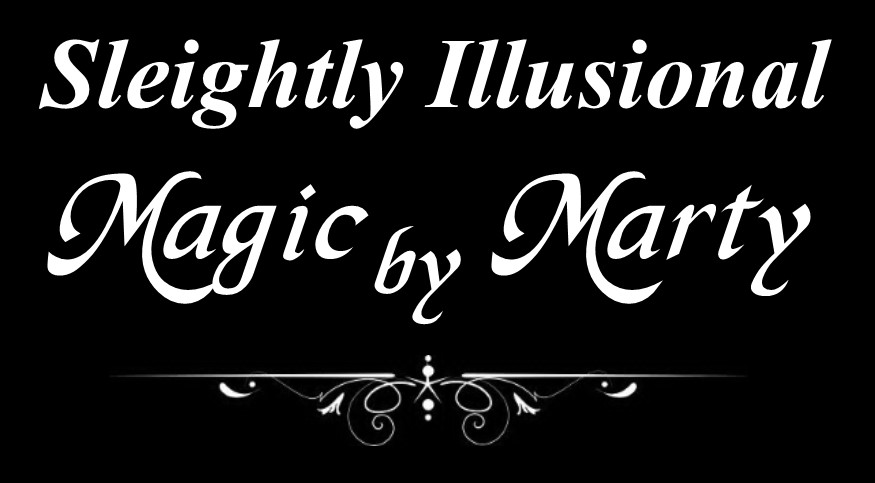 ---
Information About My Shows
Closeup/Walkaround/Strolling Magic -
Performing for individuals or small groups one at a time I can engage your guests/employees/friends so that they have a special moment or two at your event. This form of entertainment can make any stranger a new friend as they are involved in the action vicariously observed by those around them. Sleight-of-hand close up magic is the most adaptable form of entertainment that can unite almost anyone who is uninvolved, or possibly disinterested who doesn't know how to be a part of your group. And for those who are the opposite, well they just have the best time with me, a truly memorable experience.
Formal Stage Show - Whether it's a banquet or a sales meeting or a customer/client service event my show can elevate your efforts to something beyond success. By focusing your audience together on my humorous and amazing and distinctive show, hopefully integrating a message or two of what you are all about , you can really make your event a special extraordinary success.
Trade Shows - What better way to call attention to your one booth in a major exhibition trade show than to create some excitement that people gather around and …stay. There are so many ways to use sleight-of-hand to shock and surprise and to immediately grab the attention of those that might just pass by. A custom tailored show designed to not only attract attention in a busy event that subtly provides your message will make your trade show presence a more likely success. An adaptable engaging relevant little show might just provide the value you need for your spot. Let me show you what I have 'up my sleeve' in this area that might pique your interest.
Formal Close up Show - Whether you have guests from out of town at a hospitality suite or a group that you want to entertain in between sessions in a sales meeting or just want a chance to entertain a small group in a shorter period of time, my formal close up show will be most suitable. As amazing as my show is, this will unite a small group even more as they watch what happens together and to each other. I have so much of a repertoire that I can easily adapt to the makeup of those in attendance at that moment to make this a unique show both memorable and endearing. Whether it is for a short time or for a longer period this can really fill in and adapt to a quiet or awkward or unplanned time for your group. Give me a chance to show you just how effective this can be.
---
---